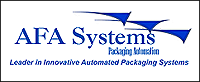 Afa Systems
Our Focus
AFA Systems Ltd. is a leading provider of Custom Designed Automation Solutions for a variety of Industries World Wide. We are a provider of end-to-end solutions for all of our clients. Whether it is robotics, cartoners, conveyor systems, packaging or high-speed assembly, AFA can provide custom solutions for all of your needs.
Engineered Solutions
Engineered products result in engineered solutions. AFA's packaging systems provide our customers with performance driven packaging automation. From beginning to end, AFA Systems provides the best material handling and packaging solutions. We are dedicated to making every project a complete success.