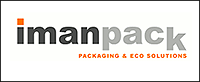 Imanpack
Imanpack established itself in the world of packaging with the introduction of its first small horizontal form fill and seal machine, the Micropac. Today the company with over 30 employees and two active branches in the world offers a complete line of automatic packaging equipment to meet the needs of any industry such as food, non-food, medical, hardware and technical products. Our quality machines include both horizontal and vertical wrappers, carton forming/filling equipment, high speed and accuracy electronic counters, robotic palletizers, a variety of material handling conveyors and downstream packaging solutions.
Imanpack has learned from its customers to continuously work together to a full customer' satisfaction.
Due to Imanpack's good customer relations, this mission has given us a strength to constantly improve the quality of our equipment. Advanced technology, combined with many years of experience and human intuition enable Imanpack to give its customers, the most suitable and profitable packaging solution. From the smallest economic wrapper to complete and "tailor-made" packaging equipment. Our company is known for its "creative" understanding, "ensured" innovation, "dynamic" foresight and continuous collaboration.