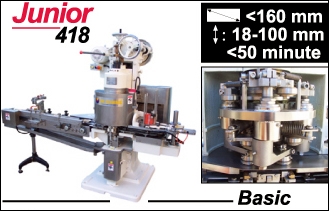 The irregular shaped can seamers Junior 418 are robust & versatile machines. Due to its simple mechanics they are perfect for all canneries wanting to pass from semiautomatic to fully automatic can seaming.
Made up of: One sturdy stainless seaming head with 4 seaming arms & rolls each working on independent & adjustable seaming operation cams. Still standing can seaming operation.
All parts in contact with can & product stainless.
Recommended: * Small – medium sized canneries.