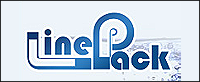 LinePack
Linepack s.r.l. is instituted with the fundamental experience and the various abilities of the partners,
Matured in the field of machines used for product control in industrial environment, as well as machines and lines for packaging in general. The previous collaborations of the founders have brought together great professional knowledge, which allow to fully face the multiple applications today required by the companies present on the market. The created structure is completely self-sufficient, disposes of:
Administrative, commercial and technical area inside the company, in modernly equipped offices and complete with special instruments both for the management of the company information, as well as for the technical planning. Assemblage and test area, also inside the company, composed of approximately 700 sq m, currently available, planned to be enlarged, and specially equipped with working places.