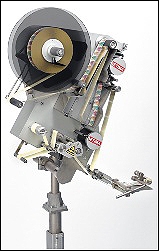 Labeller headed ETIMA'S model VD-3100 fromspeeds of5 meters/min. to 100 meters/min. and 100mm. height, equipment with high precision and reliability, unwinder system incorporate in base plaque, this can push the same mass constantly and guaranties the equipment precision, the rewinder system it's pneumatic.
We manufacture the completely equipment in our installations.
Features:
• Digital panel
• Stepper motor.
• Interchangeable electronic manoeuvre.
• Label detection with photocell.
• 15 Memories of labelling extendable until 25 or 50.
• 4 languages (Spanish, French, English, German).
• Possibility to include different type of printers.
• Labelling speed variable, measure in meters real minutes.
• Length of distributor arm variable.
• Ramp of start/stop motor variable.
• Automation optional with "Encoder".
• Run delay and labeller stop in real millimetres.
• Counter pre selector of dispensed labels.
• Password system.