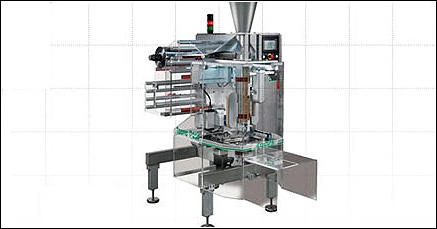 Vertical packaging machine mod. FV 025 (left version) electronic cantilevered vertical form-fill-seal machine driven by 5 servomotors and complete with:
Frame:
· Cantilever robust mechanical steel construction, of a hygienic design in anticorrosive painted epoxy powder coated finish (RAL 9007, grey).
· Vertical anodized aluminum plate on to which all parts are fixed.
· Protection doors with security micro-switch in accordance with CE regulations.
· Machine frame placed on four height-adjustable feet.
· Integrated electric board.
Cantilevered structure:
All the functional groups of the packaging machine are positioned on a cantilevered structure to allow an easier cleaning and maintenance process. Besides it avoids the accumulation of parts of products inside the machine's structure thus preventing the proliferation of bacteria and mildews.
Guards made of:
· Transparent polycarbonate.
Maintenance and access:
· All parts in touch with the products in AISI304 stainless steel.
· Cantilevered machine frame for easy access and maintenance.
Forming tube:
· n. 1 stainless steel forming tube, custom built.