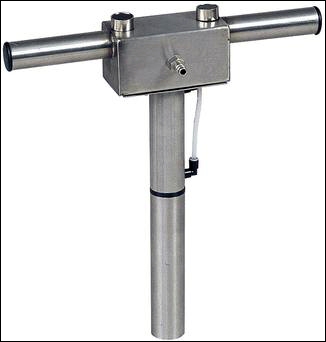 …our cork remover offers users excellent working comfort and effortless bottle opening.
Just press on the two operating buttons and the cork is ejected in a flash. Made entirely of stainless steel. Jack guide made from machine-cut PE. Fast and easy needle changeover.
CHARACTERISTICS
Air supply : 5 to 6 bars
Bimanual commands for completely save use with 2 hands
Rapid male pneumatic connection
Suitable for all cork types : composition, agglomerated, 1+1 or natural… lengths from 38 to 54 mm
OPERATING INSTRUCTIONS
– Connect the equipment to a compressed air network (minimum pressure 5 bars).
– Using both hands, position the cork remover on the bottle.
– Press the two command buttons simultaneously to insert the needle into the cork.
– Hold the equipment on the bottle until the cork has been completely removed.
– Once the bottle has been opened, release the buttons to eject the cork
PRECAUTIONS FOR USE
– Do not press the command buttons unless holding the cork remover on the bottle with both hands.
– Disconnect the air supply before attempting to disassemble the cork remover.
– Do not try to uncork bottles which are not full.