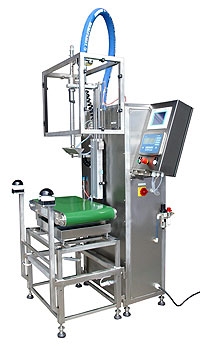 Saturn GPW-AT is an efficient weight filling machine equipped with a conveyor. The machine is designed for filling of containers of larger volumes (5-50 l) with liquid products.
The liquid is dosed by means of a pump. The type of the pump is selected based on the characteristics of the filled liquids (density, chemical content, etc.). The gear pumps and centrifugal pumps are mainly used. The filling process is controlled by PLC. The weight of the filled liquid is pre-set on the display. When the weight of the liquid is close to the pre-set value, the speed of the dosing pump rotation is automatically reduced, and when the required value is reached, the dosing pump stops. To prevent dripping, the machine is equipped with a filling nozzle termination. To prevent foaming of the liquid, a rise-while-fill nozzle is used.
When the filling process is completed, the containers are automatically moved out of the machine by the conveyor. The containers are stopped at the filling position by means of the gate system.
The exit conveyor of the filling machine can be initiated by means of push-buttons or sensors (photocells).Saturn GPW is supplied in three designs: standard stainless steel machine, machine made of plastic for filling of concentrated acids and other aggressive products, and EX model for filling of flammable and explosive liquids. The machine is equipped with top quality components such as the German-made weighing unit Sartorius, and Festo/SMC pneumatics.The machine is delivered in the version with one or multiple nozzles depending on the required filling speed.