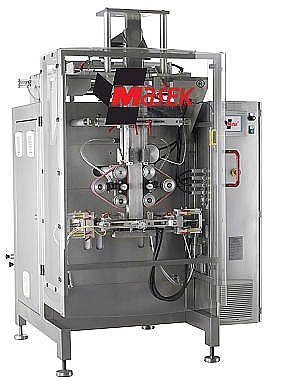 Overview
This is Masek´s new continuous motion v/f/f/s machine SIGMA which features innovative technology to help packaging professionals meet their demanding speed and efficiency requirements at various bag shapes versatility. The brand new technology in packaging machinery – the fast-action magnetic linear drives boast over 200 bags per minute. With bag dimensions of up to 250 mm wide by unlimited length, plus a host of bag styles like Quad seals and Doypacks at incredible high speeds, the SIGMA is flexible, functional and high-tech machine like no other. Accuracy and user friendly are a matter of course in a machine that brings satisfaction to your packaging needs!
Performance
Speed Minimum: 5 sáčků/minMaximum: 200 sáčků/min *
Width 60 mm 250 mm
Length 60 mm 1000 mm
Block bottom 46 x 25 mm 165 x 95 mm
Bag styles: Pillow, block bottom, gusseted, Quad seal (4-Corners sealed), Doypack, with euroslot, with carry-out handle, reclosable with Zipper …
*Note: Actual speeds are dependent on the product characteristics and quality, film quality, operator, product in-feed and ambient conditions. Actual speeds will be confirmed upon trials with original film and product.