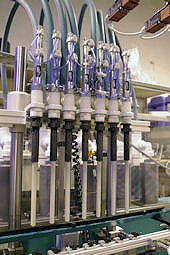 Lines for filling of corrosive substances:
Company Albertina is experienced manufacturer of the filling lines suitable for filling of corrosive liquids – mainly acids, chlorine-based substances and alkaline solutions. These lines are used for filling of concentrated acids such as chlorhydric acid, hydrochloric acid, phosphoric acid, bleaching agents, toilet cleaning agents, etc. Construction of the lines ensures their long-term resistance to corrosive substances. Frames of the devices are treated with chemically resistant powder coating and covered with plastic boards, which prevent penetration of corrosive liquids into the device. Routes for transport of the products are manufactured from plastic material and equipped with plastic pumping units, plastic valves, plastic pipes and, if the flow rate meters are used, the measuring pipes are made of teflon and the sensors from platinum-rhodium.
The capping devices are also covered with plastic boards; this prevents origination of damage in case that a bottle falls or spills in the capping area. Frames of the conveyors are also made of plastic material.