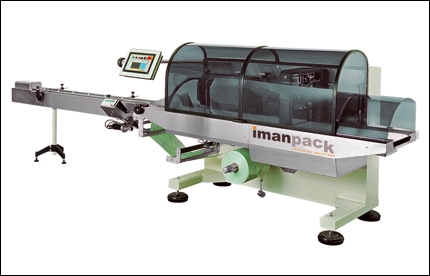 General Technical details
Electronic wrapper
Horizontal flow-pack machines
Horizontal Bags
Starlight is the newest and ultimate in Imanpack's horizontal electronic form, fill and seal series. This long-time sealing wrapper is designed to meet the specific needs of customer.
Starlight is highly engineered and user friendly and guaranteeing reliability, flexibility, high production speed, easy maintenance and cleaning.
– Fully servo-driven with all independent brushless servo-motors
– Friendly operator's interface to ensure maximum simplicity in use
– Up to 20 programs memory to reduce set-up and change over times
– Automatic working set-up according to desired output
– Key-pad and LCD control panel, swing arm mounted
– Simple integration with different in-feed systems
– No product, no bag
– No gap, no seal
ALSO AVAILABLE: Automatic feeding systems, labellers printers and gas flushing systems.
Machine according with CE rules