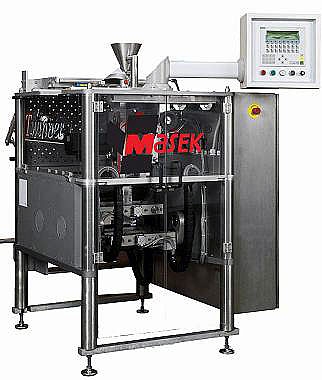 Overview
Masek´s continuous motion bagmaker Twinner VC 250 is the world's fastest vertical bagmaker, capable of true production speeds to 240+ bpm. The unique center mounted filling tube and patented cantilever dual sealing profiles, that are natural counterbalanced, are designed to provide vibration free, extremely smooth operation at incredible speeds. Our color graphic operator interface coupled with "off-the-shelf" PLC controls insures industry leading ease-of use and the highest reliability. The Twinner is also extremely versatile, handling package sizes up to 250mm (10″) wide and multiple package styles. If you want to reach the speed, then the Twinner is what you need.
Performance
Speed Minimum: 5 BPMMaximum: 250+ BPM *
Width50 mm250 mm
Length 100 mm 2000 mm
Bag styles: Pillow, block bottom, gusset, Quad seal (4-Corners sealed), with euroslot, with carry-out handle, reclosable, …
*Note: Actual speeds are dependent on the product characteristics and quality, film quality, operator, product in-feed and ambient conditions. Actual speeds will be confirmed upon trials with original film and product.