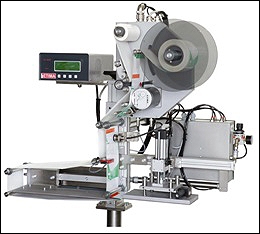 Labeller headed ETIMA'S model VD-3000 LABSATATIC from speeds of 30 meters/min. to 100 meters/min.
150mm / 200mm. and 250mm. heights, equipment with high precision and reliability.
Moving blade system, for label suction and being applied later. System manufactured to label empty bags or flat surfaces.
We manufacture the completely equipment in our installations.
Features:
• Digital panel
• Stepper motor.
• Interchangeable electronic manoeuvre.
• Label detection with photocell.
• 15 Memories of labelling extendable until 25 or 50.
• 4 languages (Spanish, French, English, German).
• Possibility to include different type of printers.
• Labelling speed variable, measure in meters real minutes.
• Length of distributor arm variable.
• Ramp of start/stop motor variable.
• Automation optional with "Encoder".
• Run delay and labeller stop in real millimetres.
• Manoeuvre controlled by automaton or PLC.
• Pneumatic SMC